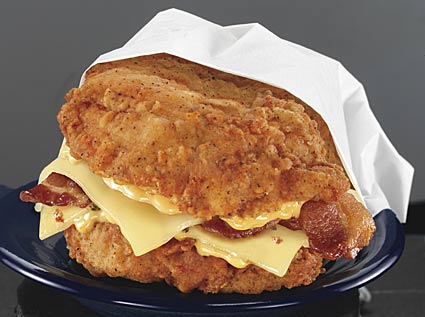 Have you tried the Double Down "sandwich" at KFC? I use quotes for sandwich since there's no bread involved. It's just 2 pieces of chicken with cheese and bacon in-between. That's a 540 calorie heart attack prep course!
If you feel that's just too easy, how about the 1250 calorie AP course? Oh yeah, that's what IHOP is introducing. I call it the "Quadruple Down." Wait till you hear about this!
Say hello to to the Pancake Stacker. Crustless cheesecake filling surrounded by two buttermilk pancakes and topped with a strawberry, blueberry or cinnamon apple compote and whipped topping. They are available a la carte or – if you dare – with a combo meal. That includes eggs, hash browns, a choice of bacon, pork sausage links and ham to your system!
Weighing in at 1250 calories, that is half the total calories adults should eat all day! Fan of sodium? Oh, good! There are 2,750 milligrams of sodium. According to The Institute of Medicine, adults should not exceed 2,300 milligrams a day! Wow.
Will I see you at KFC or IHOP? Then, the gym? After that, the emergency room? It's a date!